Christmas Mass Schedule
Christmas Eve – Tuesday, December 24th 
4:00 PM and 6:00 PM
12:00 AM Midnight Mass (a concert will precede this Mass at 11:30 PM)
Christmas Day – Wednesday, December 25th
9:00 AM and 10:30 AM 
The last Mass on Christmas Day is 10:30 AM
On Christmas Day there is no 7:00 AM, Noon or 5:00 PM Mass
New Year's Mass Schedule
New Year's Eve – Tuesday, December 31st 
Vigil at 4:00 PM
New Year's Day – Wenesday, January 1st
8:00 AM, 10:00 AM & 12:00 PM (noon)
Note: no 7:00 AM and Mass at 10:00 AM not 10:30 AM
January 1st, the Solemnity of Mary the Mother of God, is a Holy Day of Obligation. Coming to Mass is a wonderful way to greet the New Year by celebrating Mary as the Mother of God and asking the Lord for his blessings.
St. Pius X Church
Saturday Vigil Mass: 4:00 PM & 6:00 PM (No 6:00 PM Mass January – March)
Sunday Masses: 7:00, 9:00, 10:30 AM, Noon & 5:00 PM
Daily Mass: Monday through Saturdays 8:00 AM
98 Station Avenue, South Yarmouth, MA 02664 Click for directions
Sacrament of Reconciliation (in the Church)
 Thursdays: 5:30 – 6:30 PM. (This time slot is unavailable through May 22, 2019.) Saturdays: 3:00-3:45 PM. You may also call the rectory for an appointment.
Our Lady of the Highway Chapel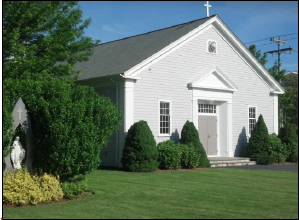 Our Lady of the Highway Chapel is our Summer chapel. It is open for weekend Masses through Labor Day weekend 2019.
Saturday Vigil: 5:30 PM
Sunday: 8:00 and 9:30 AM
1044 Rt. 28, South Yarmouth, MA
Click for Directions