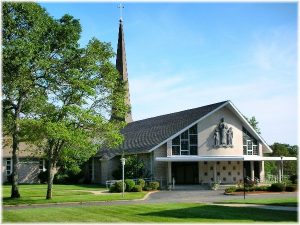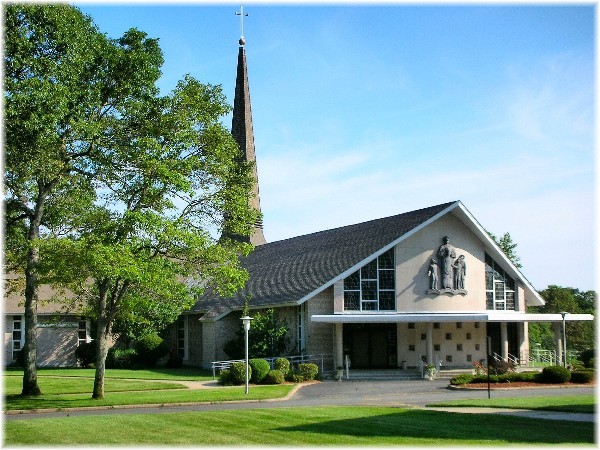 Saturday 4:00 PM
Sunday 8:00 and 10:30 AM
Daily Masses 8:00 AM
Confessions will be heard 1pm -1:45pm on Saturdays.
98 Station Avenue, South Yarmouth, MA 02664 Click for directions
We need adequate time to properly sanitize the Church between Masses.
Our Lady of the Highway Chapel will remain closed until further notice.
Following the guidelines from the Diocese, this is how we will proceed in our parish:
• Entrance for all Masses will be through the designated doors at the front of the church only. You may leave by any door after Mass.
• Everyone must bring and wear your own mask but NO GLOVES. Please bring hand sanitizer with you or sanitize your hands as you enter. Please move towards the front of the church first to find a seat.
• After blocking off rows and having social distancing, each of our rows being 14 feet long, we can fit 3 people at social distance in one pew. Therefore attendance will be limited to 150, first come first served.
• Seats are marked to allow for proper distancing. Only every other row so don't expect a regular seat! Families of the same household may sit together without distancing, but still need to wear masks.
• Windows and entry doors will be open so as to circulate fresh air, but the fans will not be operating. Please dress accordingly.
• Masses are to be of shorter duration for safety's sake. There is to be NO congregational singing so we will recite prayers. There are no missalettes or bulletins (find it online) and please do NOT drop off any devotional items as they will have to be discarded.
• Bathrooms will be locked and used for emergencies only.
• Collection baskets will be at the Narthex as you enter. Please drop your donations off as you come in.
• For an orderly dismissal and respecting guidelines, Communion will be distributed at the end of Mass, respecting social distancing. Communion, as the Bishop's guidelines tell us, will be given in the hand only. Then the recipient will move to a mark 8 feet away, lower the mask and place communion in their mouth. You are then to go down the side aisle and directly out of the church without returning to your seat. You may pray in your car or at home.
• Daily Mass will follow the same protocols.
• For the time being we are not taking intentions for Sunday Masses and intentions previously postponed will be celebrated on weekdays as we go forward.
• There will be no procession in or out and no greeting of people by the priest or deacon. Also there are no altar servers for Masses at this time. There is also NO SIGN OF PEACE or holding hands at the Our Father.
• All other gatherings and parish activities other than celebration of Mass remain suspended until further notice.
• For those who cannot fit at a Mass or have watched it livestream, you may come and receive communion in the narthex, according to the same protocol as above. This will be from Noon to 12:30 only. Do not enter the church proper as it will already have been sanitized after the 10:30 Mass.
This may all sound very strange, and none of us has ever lived through something like this, believe me. I was reading the "Little White" book earlier today and was struck (as I have been before) by the quote from Matthew 28:17 "When the disciples saw the risen Lord, they worshiped, but they doubted?" Why would Matthew throw that word in? I think he realized that being a follower of Christ will require us to endure things that we never thought we could or would. We are called in this time of pandemic to adapt our faith lives to where we are at and still know that the Lord is with us and will guide us. But Lord we have doubts about so many things. People deny reality and have no patience. Let us pray for patience today as we wait for the safety of our lives to be more present.
As I have said, I implore you at this time to continue NOT to come to Church and I ask for your patience. This will get better and I know that if you come on a weekday, you may ease yourself into the Mass better.
To paraphrase the White Book: To be a disciple means to hear God's word; to take up your cross; to be in the world and live in a way that proclaims Christ as the Lord of all.
Thank you and I do miss you and pray that someday in the future our new normal we will celebrate together!
God Bless you all and stay safe!
Fr. Paul
See the Diocese website for more information.
---
All Masses at the Chapel (corner of Rte 28 and Forest rd in South Yarmouth) are Cancelled for the moment.