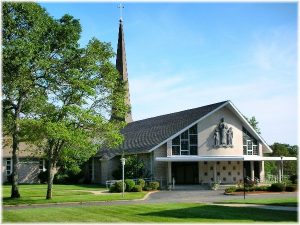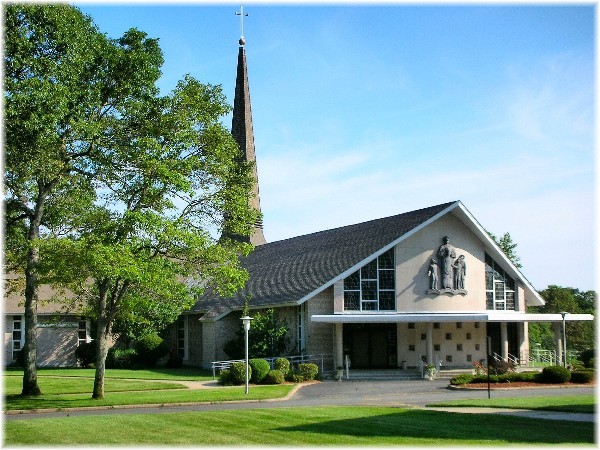 Saturday 4:00 PM
Sunday 8:00 and 10:30 AM & 12 Noon
Communion will be distributed 1:00 -1:30 PM at the main entrance of the Church for those who watch Mass online or on television.
Daily Masses (Monday – Saturday) 8:00 AM
Confessions will be heard 1 – 1:45 PM on Saturdays.
98 Station Avenue, South Yarmouth, MA 02664 Click for directions
Our Lady of the Highway Chapel will reopen the weekend of July 3 & 4, 2021.
The Mass schedule is as follows: (This schedule is in effect through Labor Day 2021.)
Saturday 5:30 PM
Sunday 9:30 AM
Dear Fellow parishioners,
As of May 29-30th new protocols began. This long awaited return to much more "normalcy" does NOT mean we throw caution to the wind. The Diocese acknowledges that it has been a difficult year and that we still must provide a safe and respectfully sacred environment for ALL of our people.
Therefore going forth here are the new protocols:
Indoor seating capacity is increased to 100%. Therefore there will be an end to the "roped off" pews. You may sit where you wish.
There will be no reservations or contact information needed as you come in to Church.
Doors will open one half hour before Mass and windows will remain open for Masses to assure fresh air circulation.
We will still maintain a SINGLE ENTRANCE as we have the past year. For safety's sake, the Police department has been requesting this of us for 3 years for security's sake. We have been doing this successfully for a year now, so this should not be a problem. Of course, you will be able to exit any door you wish. Thanks for your understanding.
With regard to masks, those who are fully vaccinated are not required to wear a mask to attend Mass. However we will not "police" this and count on our common commitment and courtesy to one another. Many who are vaccinated may wish to continue to wear a mask and that is fine. I will be wearing one when not in the sanctuary as will minsters and ushers. Communion will be distributed by masked ministers only. If you wish to continue "social distancing" I would suggest you attend the Noon Mass. Traditionally it has been less crowded.
Please understand that the Diocese is continuing the dispensation from the obligation to attend Mass on Sundays. We will have Holy Communion from 1:00-1:30PM on Sunday.
Also in terms of Holy Communion, it will be distributed at the regular time (not at the end of Mass). We still ask that you continue to receive in the hand so that it is safer for the person behind you.
The instruction to offer each other the sign of peace will return, but will be an invitation to a "no Contact" sign of peace. (wave, nod, etc.)
We will reintroduce SOME singing. Missalettes will return during the next phase in perhaps a month's time. The same is true for the Bulletin. Hopefully you have been checking the bulletin or getting it as an email each week.
Confessions continue to be Saturdays from 1:00-1:45PM only. Priest and Penitent are both asked to wear masks.
We ask that you leave at the end of Mass after the blessing as we will continue to sanitize the church after each Mass.
Thank you for your cooperation throughout the pandemic, and with patience and prayers we will get through the rest. God Bless you always.
Fr. Paul